At this time of year thoughts often drift to decorating and what can be done to change the rooms we live in. I think it 's because there's so little to entertain us in our gardens (especially in Britain  – please, no more rain…) our thoughts drift to how we can beautify our interiors.
I've often considered the idea of using wallpaper to make a feature wall in my house. The only thing that puts me off is wallpaper itself (I know that doesn't make sense, but bear with me).
I am not afraid of tackling the odd bit of diy here and there, but the thought of applying the paste, lining up the pattern and hanging the darn thing makes me break out in a rash *shudders*.
The fact that I'm also prone to changing my mind a lot doesn't help either. I mean, what if after a month I decide I don't like it?
I think I have found the solution. The Painted House is a British company selling patterned paint rollers. The owner, Clare Bosanquet, made the discovery whilst travelling through Romania and now spends her time selling them through her Etsy store. A great alternative to wallpaper, they work by printing the pattern directly onto the walls.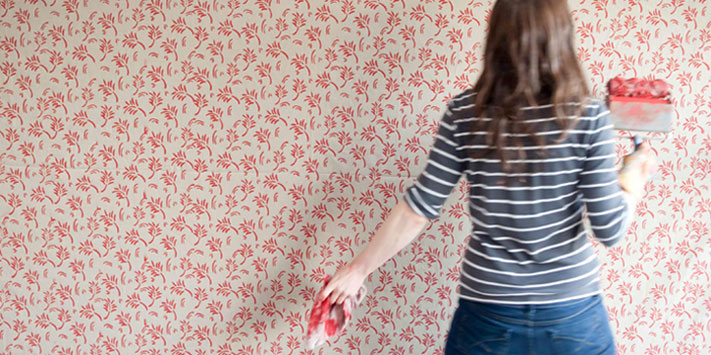 There are a range of patterns to choose from, ranging from contemporary to more traditional, flock-style patterns.
What's more, with a different roller the patterns can also be painted directly onto paper or even fabric.
I think my friends might be getting hand-printed scarves, wrapped in hand-painted gift wrap this year, don't you?
The Painted House website is definitely worth a look. There are lots of video tutorials on there as well as hints and tips on how to achieve a great finish.
What do you think? Do you agree that it's a great alternative to wallpaper? Let me know what you think.
Bye for now
Michelle x
Disclosure: I have not been asked to write this post. As usual, all opinions are entirely my own.